Tismenickiy district «History of Tysmenytsia town» Museum named after Stepan Gavryliuk

Deprecated: mysql_escape_string(): This function is deprecated; use mysql_real_escape_string() instead. in /sata2/home/users/museumif/www/en.museum.if.ua/modules/system.php on line 3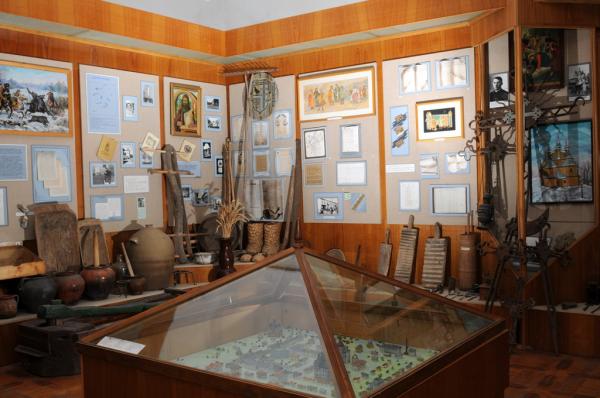 Address:
K.Levitskiy Str., 4
Tysmenytsia, 77400
tel.: +38 (03436) 2-31-39
Description:
The museum of Tysmenytsia history was firstly created in 1992. It was located in the premises of male and later secondary school. This house was built in 1902. Museum occupies three halls at a general area 150 square m.
In the first hall small collection of archaeological finds from excavations of primitive Tysmenytsia settlement, so called, «Gorodishcha», household goods, greenbacks is represented.
Here the attention is focused on the model of old Tysmenytsia downtown (beginning of the ХХ century), with churches, cathedrals, synagogue destroyed by the soviet rule, railway and other buildings not present any more. The stands placed in this hall tell about the known persons of Tysmenytsia origin, namely: Iov Knyaginitskiy – founder of Manyava monastery, Kost' Gorbal' – teacher and publicist, Kost Levitskiy – the first head of West Ukrainian People Republic government. Stepan Gavryliuk, the director of the museum, died in 2003. A stand with his biography completes information placed on the first hall walls. A bust of S. Gavryliuk is also installed on the museum building.
The next hall is devoted to furriery. Tysmenytsia city is famous exactly thanks to this handicraft, which was brought here by the Armenians. There is very interesting model of furriery cabin presented in the museum. The samples of sheepskin coats and other clothes, and also furriery tools are displayed. A lot of interesting documents photocopies on furriery, certificates originals proving studies at masters of this business are placed on stands. The row of stands tells about the work of «Tysmenytsia» fur firm and «Tykaferliuks» joint venture.
The third hall is used for variable exhibitions.
The windows with archaeological finds are displayed in the museum corridor, and pictures with old Tysmenytsia views - on the walls.
In 2002 the museum got the rank of «Folk», and in 2003 – it was named after Stepan Gavryliuk.
Day off: Monday
Working hours: 10:00 - 18:00
Watch on the map