Deprecated: mysql_escape_string(): This function is deprecated; use mysql_real_escape_string() instead. in /sata2/home/users/museumif/www/en.museum.if.ua/modules/system.php on line 3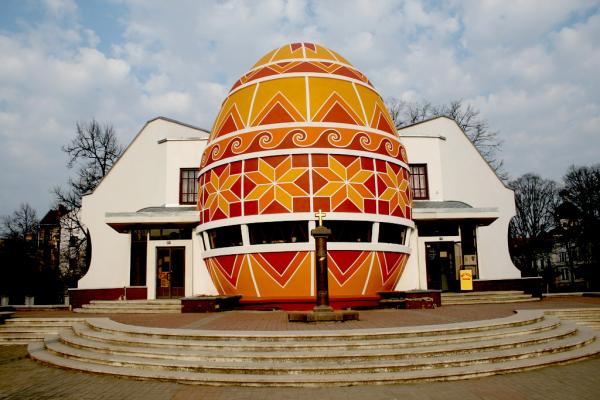 Address:
Chornovola avenue, 43 b,
Kolomyia, 78200
tel./fax: (03433) 2-78-91
Description:
Kolomyia Museum of Pysanka is a unique museum, built especially for keeping and exhibiting works of pysanka painting (painting Easter eggs).The architectural construction, shaped as an Easter egg has become a Kolomyia visiting card that greatly attracts tourists. The museum owns a collection of 12,000 Easter eggs, brought from almost all Ukrainian regions. Besides, some of them have been sent from Pakistan, Shri-Lanka, Byelorussia, Poland, Check Republic, Switzerland, the USA, Canada, France, and India.
In itself pysanka is a hen's egg, treated with wax according to a specific technology and painted with natural or aniline dyes. Traditions of such a painting in the Hutsul region take their roots in the hoary antiquity and constitute a unique accumulation of miniature painting works. Their ornamental patterns have been preserved since the pagans' times.
Working days: Tuesday – Sunday
Working hours: 10:00 – 18:00.
The museum was included into the list of the objects, which have been monitored for the accessibility.
Short description of the object accessibility:
There are two ramps to the left entrance of the museum building. The ground floor of the building is fully accessible. Here the variable exhibitions of local handcrafts, master-classes of Easter egg paining and straw spider weaving are being organized; there are the exposition of the Easter egg paining history and a gift-shop.
There are steep steps to the first floor, no special utilities for people on wheel-chairs.
WC in museum is not equipped for disabled people.