Kolomiyskiy district Local lore museum of Carpathian flora and fauna (Kniazhdvir reserve)

Deprecated: mysql_escape_string(): This function is deprecated; use mysql_real_escape_string() instead. in /sata2/home/users/museumif/www/en.museum.if.ua/modules/system.php on line 3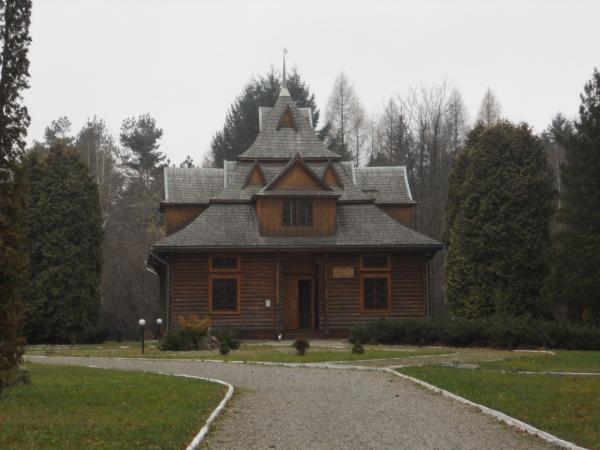 Address:
Kniazhdvir village,
Kolomyja district, Ivano-Frankivsk region
Description:
The museum is located on the territory of Knyazhdvir Nature Reserve, which is one of the biggest reserves of yew (Taxus baccata).
You can familiarize here with the history of the area, see rare and vanishingkind of animals, birds and plants of the region. There are interesting collections of rare insects, samples of wood-shrub breeds, minerals, exposition "Nature wonders".
The main mission of the unique botanic state preserve «Kniazhdvir» is preservation of yew (Taxus baccata) in natural state. This is very rare tree for Ukraine. The preserve is one of the biggest in Europe and has scientific and practical value. The trees have been growing here since pre-historical times. Any tree can't be compared to it, as yew doesn't rot in the water. That's why it was used as the timber for ships, underwater constructions, bows and expensive furniture in ancient times.
In 1913 there were more than 20.000 trees and bushes of the yew here, in1914 the area become preserved, in 1974 the status of state preserved territory was renovated.
The total area of the preserve is 206 hectares, including 36 hectares of the area covered by forests of natural origin, and 20 hectares of the area covered by planted forests. Now there are about 10000 yew trees now here.
The museum was included into the list of the objects, which have been monitored for the accessibility.
Short description of the object accessibility:
In general the museum of the "Kniazhdvir" preserve and surrounding area are accessible for low-mobile tourists. The steps at the museum entrances and thresholds between the museum rooms can cause some problems coming into and inside the museum. The assistance of the accompanying person is recommended.