Verkhovinskiy district Hutsul household, ethnography and musical instruments museum of Roman Kumlyk

Deprecated: mysql_escape_string(): This function is deprecated; use mysql_real_escape_string() instead. in /sata2/home/users/museumif/www/en.museum.if.ua/modules/system.php on line 3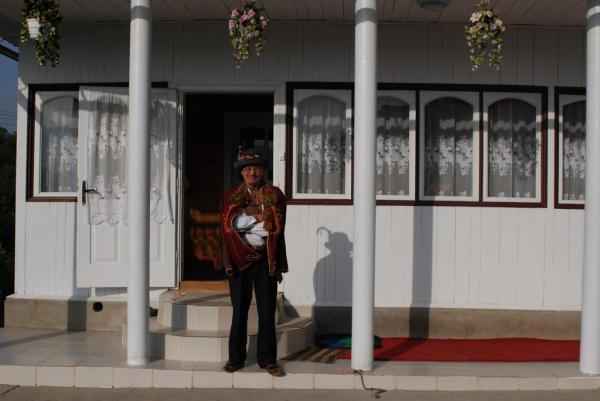 Address:
I. Franko Str., 35, Verkhowyna town
tel.: (0342) 2-17-44, (097) 307-52-54
fax: (0342) 2-22-06
Description:
Roman Kumlyk's private museum is located in his own house, it was arranged at the beginning of 2000s. It took 30 years to collect the exhibits, they are household goods, ancient Hutsul clothes, money bills of different periods etc., which all together give a general idea of the Hutsuls' life. The host's pride is a collection of musical instruments.
Mr. Roman carries out excursions and plays all the instruments, among them there are violins, cymbals, kozas, drymbas, thrembitas, horns, he can also tell excitingly about every instrument.
For example the horn is an ancient 'mobile phone', as it was used to send messages to a great distance. Thrembita is a ritual instrument, which was used in Kolyada, during funerals and weddings. The violin is Mr. Roman's favorite instrument. In his collection there are hollow violins as well as a rectangular violin.
To his accompaniment (cymbals and other instruments), the host performs national Ukrainian and Hutsul, songs and well-known hits popular during different periods.
Every single excursion is an improvisation, and even if you visit the museum for a few times, you will still get lots of new and curios details about the Hutsuls' life, their hard everyday life and bright holidays, their sharp wit and original art.
Working days: to visit the museum any time.
Please contact the host in advance