Ivano-Frankivsk Ivano-Frankivsk Regional Ethnography and Local Lore Museum

Deprecated: mysql_escape_string(): This function is deprecated; use mysql_real_escape_string() instead. in /sata2/home/users/museumif/www/en.museum.if.ua/modules/system.php on line 3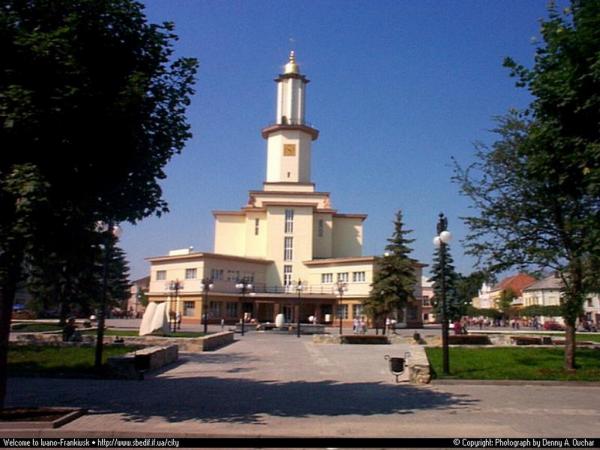 Address:
Galitska Str., 4 a, Ivano-Frankivsk, 76018
tel.: +38 (0342) 75-00-26
fax: +38 (0342) 75-23-44
Description:
Ivano-Frankivsk Regional Ethnography and Local Lore Museum was opened in 01.05.1940 in a house on 7 Galitska Str. Here the following departments worked: history, natural, folklore and book depository. Museum funds counted 15500 units with the collections of the Pokuttia Museum, museum of Hutsul'schyna in Zhab'ye and some private collections. In the years of the ІІ World War considerable part of the museum funds was evacuated to the east and was not returned back. During 1941-1944 part of museum collections, which remained, was robbed. 01.08.1944 the museum resumed the work. In 1959 after major repairs of city Town hall a new museum display was opened here. Today the museum is prominent scientific, cultural and educational establishment of Prycarpattya.
There are the following exhibition departments: nature; history; folk art; and archaeology. The department of nature acquaints with biotic variety of Prycarpattya. The archaeological monuments collection of Kyiv Rus' and Halych-Volyn' state's times is decoration of history department. Findings from excavations of Princely Halych are extraordinarily interesting. In the display rich collection of weapon and incunabula is represented. In the department of folk art the things of folk mode of life, clothes, and wares of arts and crafts are exhibited. In the museum display the icons of the XVII-XIX century are also represented.
The collecting activities occupy the important place in the daily museum work. Today the museum funds count over 120 thousand units. Annually the museum is visited by more than 140 thousand persons, conducts above two thousand excursions, and organizes about 40 exhibitions. Each year the museum conducts archaeological expeditions, holds scientific conferences, and publishes the «Scientific records» and other literature. It also provides methodical guidance for public museums.
There are the following museums that work as filial - separated museum departments: Ivan Franko Literature and Memory Museum (created in 1953) in Kryvorivnia village (Verkhovyna district); M. Hrushevskiy Museum in Kryvorivnia village (Verkhovyna district), created in 2002; «Hata-Grazhda» of P. Harouk in Kryvorivnia village, founded in 1978; Les' Martovych Literature and Memory Museum in his native village – Torgovitsia (Gorodenka district), opened in 1971; Literary Museum of Prykarpattya in Ivano-Frankivsk, founded in 1986; the History and Regional Ethnography Museum in Solotvyno town (Bogorodchany district), created in 2001 on the basis of public history and regional ethnography museum named after O. Fedak; O. Dovboush History and Regional Ethnography Museum in Pechenizhyn town (Kolomyya district), created in 2004; History and Regional Ethnography Museum «Hutsul'schyna» in Verkhovyna town.
Working days: Tuesday - Sunday
Working hours: 8:30 - 17:30
Watch on the map