Historical-regional Kunivtsi historic and local lore museum

Deprecated: mysql_escape_string(): This function is deprecated; use mysql_real_escape_string() instead. in /sata2/home/users/museumif/www/en.museum.if.ua/modules/system.php on line 3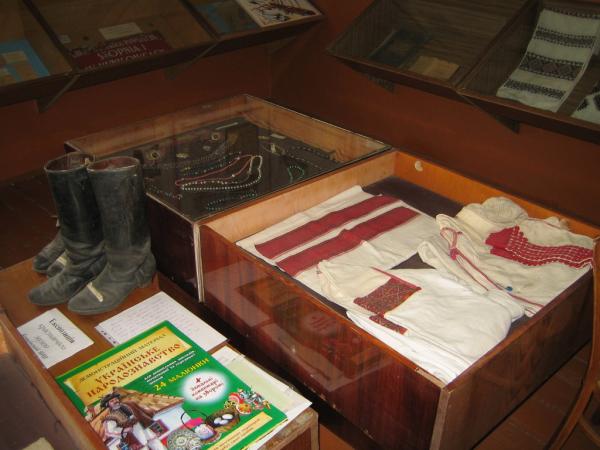 Address:
Grushevskogo Str., 17, Kunisivtsi village,
Gorodenka district, 78111
tel.: +380 3430 4-92-49
Description:
Kunivtsi historic and local lore museum located in the premises of the village secondary school was founded in 1990 by former school director Vasyl Moroz (not living nowadays) on the ground of the lore materials.
The museum operates on voluntary basis and is served by the teachers and pupils of the school. The museum area is 30 sq.m.
The exhibitions in the museum are the following: «Our land in the past»; «Kyiv Rus»; «Halych-Volyn principality»; «National liberation movement»; «Ethnography»; «Fauna».
Among the exhibits there are tools of the primitives, who lived here 100 thousands years back, namely: flint cutters, knights, plates, scrapers, arrow-heads, stone hoes, fragments of clay crockery of Tripoli culture; plant fiber processing tools: comb for fiber, spindle, spinners; women and men clothes; weaved products: table cloths, etc.; documents dated Second World War, rests of the weapons.
The museum collections are being permanently enlarged by exhibits of cultural and daily life character.
Working days: Monday-Friday; days off: Saturday-Sunday
Working hours: 12:00-15:00.
Watch on the map